Guide To Getting Your HOA Solar Approval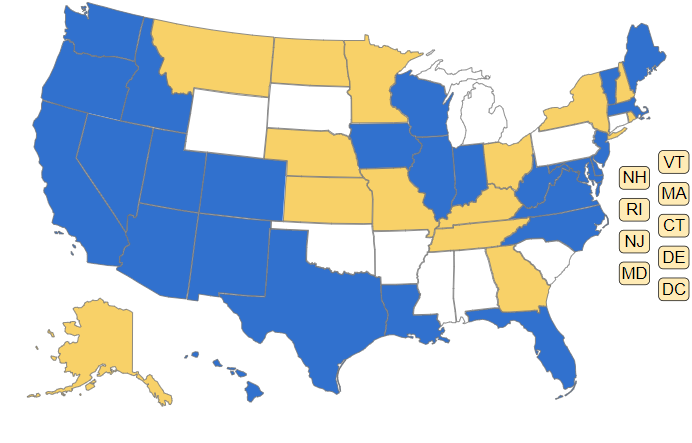 As a homeowner with environmental awareness, you wish to switch to solar energy to reduce your dependency on conventional fuels. You have designed your PV system and checked your roof for load bearing capacity as well. The next step is to get in touch with an installer, right? Not necessarily, especially if you live in a gated community. You might want to flip through the covenants, conditions and restrictions (CCR) handbook of your Homeowner's Association (HOA). If you live in any of the states shown in white, chances are that you might be at odds with a covenant for which you had not bargained.

Data from the Foundation for Community Association Research shows that there were 350,000 residential community associations in the U.S. in 2018-2019, which housed 73.5 million residents. This means that more than 25% of the U.S. population is part of a legally binding document that restricts their rights over their own property. This impacts both the solar installer businesses as well as the property owners.

However, there are a number of strategies that you can employ to secure approval for your photovoltaic design, regardless of your location. This article presents a guide to obtaining approvals from your housing committee in order to successfully install PV systems; and how to advise your prospective customers as well.
💡
For more such amazing content, do follow our LinkedIn page. 👇
How HOAs affect solar installation
The most common reason for an HOA to prevent a homeowner from installing solar panels is the effect they might have on the community's aesthetics. The prevalent fear that installation of panels can damage the highly held standards of outward community appearance or that they may cause a reduction in the property values for the neighbourhood leads to permission denials from the HOA. This is one of the top three myths that have been busted with hard and accurate facts.
Fig. 2. Seamless rooftop solar system

When Joey Myles, a homeowner in Franklin Trace, Indiana was hunting for his forever home, he had to thoroughly check the covenants of nearly two dozen HOAs in the Indianapolis area. Even his final choice did not easily yield to his demands. After months of back and forth with the township HOA, he was allowed to place the system in a location that was discreet; a compromise that resulted in the system producing only half as much energy as the initially planned design.

Per a statement given to the New York Times in 2009, John Berger (then the chief executive of Houston based solar company Standard Renewable Energy), HOA prohibitions had cost SRE USD 1 million in business. These are just a few of examples of the hurdles that HOAs present to property owners. "It's been a thorn in the solar industry's side for years", says Tom Ferraro of Carolina Energy Conservation.
Obtaining HOA approval
Understanding the legal process of getting an approval from the HOA helps installers guide their customers better through permit denials. A customer might choose to seek permission from their HOA on their own, or might allow the solar contractor to do so. After a customer has been acquired and designs are prepared, the proposal and images of the prospective project are forwarded to the HOA for approval. Once the plans are approved, the installers can go ahead with the project. However, in case of denials, contractors should be well aware of the state's solar access laws and solar easements to file for repeal of the decision.

The steps in Figure 3 are an easy-to-follow guide that can help both contractors and homeowners.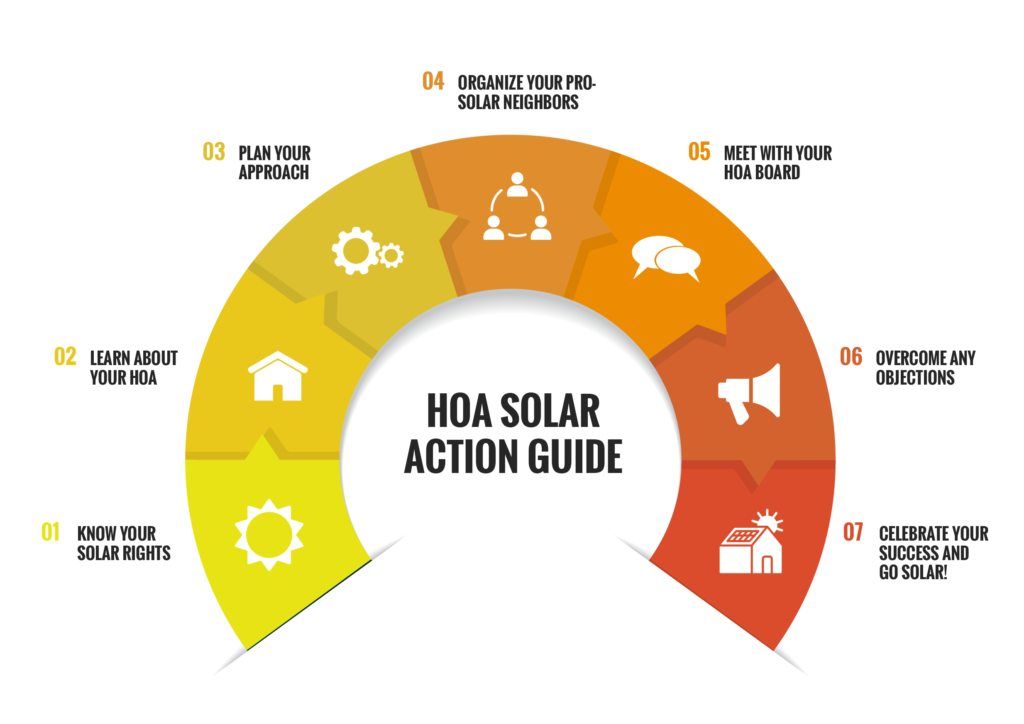 Fig. 3. Path to residential solar
How to facilitate the application process
Know your rights
As of 2010, out of the fifty states in the USA, thirty-eight of them had passed laws that protect a homeowner's right to go solar. Solar access laws are state-level laws that prohibit or limit restrictions on solar installations. We recommend that you start with Solar Rights and Easements by State from the Community Associations Institute to learn more about your rights. These laws override the covenants that restrict your freedom to go solar.
💡
With ARKA 360, it's easier than ever to: - Design and Sell Advanced PV Systems Easily. - Save Time and get More done in Less Time.
Solar access laws give some control to the HOA regarding the size and location of the PV system as long as it does increase costs significantly or detrimentally affect the output of the array. For example, the Florida's Homeowners Solar Rights Act(163.04) states that: "A property owner may not be denied permission to install solar collectors or other energy devices based on renewable resources by any entity granted the power or right in any deed restriction, covenant, or similar binding agreement to approve, forbid, control, or direct alteration of property with respect to residential dwellings not exceeding three stories in height. For purposes of this subsection, such entity may determine the specific location where solar collectors may be installed on the roof within an orientation to the south or within 45 degrees east or west of due south provided that such determination does not impair the effective operation of the solar collectors."

Solar access laws vary from one state to another. More information can be found at the Database for State Incentives for Renewable Energy. It should be noted that even if your state restricts your HOA's power to prohibit solar installations, you might still need approval from your HOA before going ahead with the project.

Along with solar access laws come solar easements. Solar easements protect a property owner's right to unrestricted sunshine. Easements can also specify other details, such as requiring neighbours to keep their bushes trimmed or restricting them from building additions that might hinder solar access to your panels.
Guide your customer
Homeowners, especially those that are new to an area are often unaware of their rights. As a solar contractor with acute knowledge of your state's laws and stipulations, you can smoothen the sales process. Limitations on placement or size can severely impact solar designs, which affects the price, even with solar access laws in place.

HOAs might make false claims about aesthetics, property values or safety to hinder solar installations. All of these myths have been busted quite meticulously here. An HOA is meant to provide residential services, manage common areas and to resolve disputes amongst homeowners. Members of an HOA do not have the same rights and protections as locally elected officials do. As a contractor you need to find answers to the following questions.
Are solar panels explicitly prohibited?
If not prohibited, are there rules that may effectively prohibit or severely impact an installation?
Are there rules governing the type of panels?
Are there rules governing the placement of conduits, inverters, or other related electrical equipment?
Plan your application process
Customers are more likely to trust companies that have knowledge and a detailed approach towards a project. Solar installers can reassure customers by providing examples of successful installations in gated communities, where they had to seek approval of HOAs. With detailed documentations, images of prospective plants and ironclad agreements, HOA approvals can be ensured. A hiccup-free installation requires an efficient operations team that can process and analyze paperwork quickly and thoroughly.

In case you, the homeowner, are met with unreasonable restrictions on your solar plans, you can convince your neighbors to join your cause. Make your case to others around you, highlight the mutual benefits of solar, cite your state's solar access laws and showcase examples of other homeowners around you who have successfully gained their HOA's approval. Once enough support has been gathered, you can meet with your HOA, present your case to them and ask for changes in their solar policies. This entire process expects polished communication with both sides being able to freely express their concerns.
Be flexible
In certain cases, rules by the HOA require you to think outside the box. If permanent mounting structures are not allowed, look at ballasted structures as a possibility. If rooftop solar systems are restricted, maybe customers can opt for ground-mounted systems. As for aesthetics, many HOAs prefer solid black panels instead of ones with white paper backing and a silver frame. As seen in Figure 2, flush mounted panels can be integrated seamlessly with the rooftop without any of the chunky accessories or mounts.
Spread the word
Myths around solar installations are widespread, specially in states like Indiana. Laura Ann Arnold of the Indiana Distributed Energy Alliance (Indiana DG) says that "The solar industry as a whole needs to stay vigilant on HOA issues and work to educate the public as more people want to go solar.". This means providing potential customers with information about their state's restrictions. It also involves educating HOA members about removing outdated rules and accepting the shift to solar. The productivity and economic impacts of placing rooftop panels on north facing roofs have to be communicated clearly.

"The solar industry needs to be proactive to educate prospective homeowners to ask questions about solar prohibitions and restrictions before they buy a new home." says Arnold. As a solar contractor, you can guide your customers through this process better when you are armed with knowledge about solar access rights. Better knowledge translates to better sales. As a customer, you can fast-track your approval by educating your neighbors and board members. The efficiency of this largely depends on cooperation and consensus.