Buying A Solar Power Generator For Your Home Or Business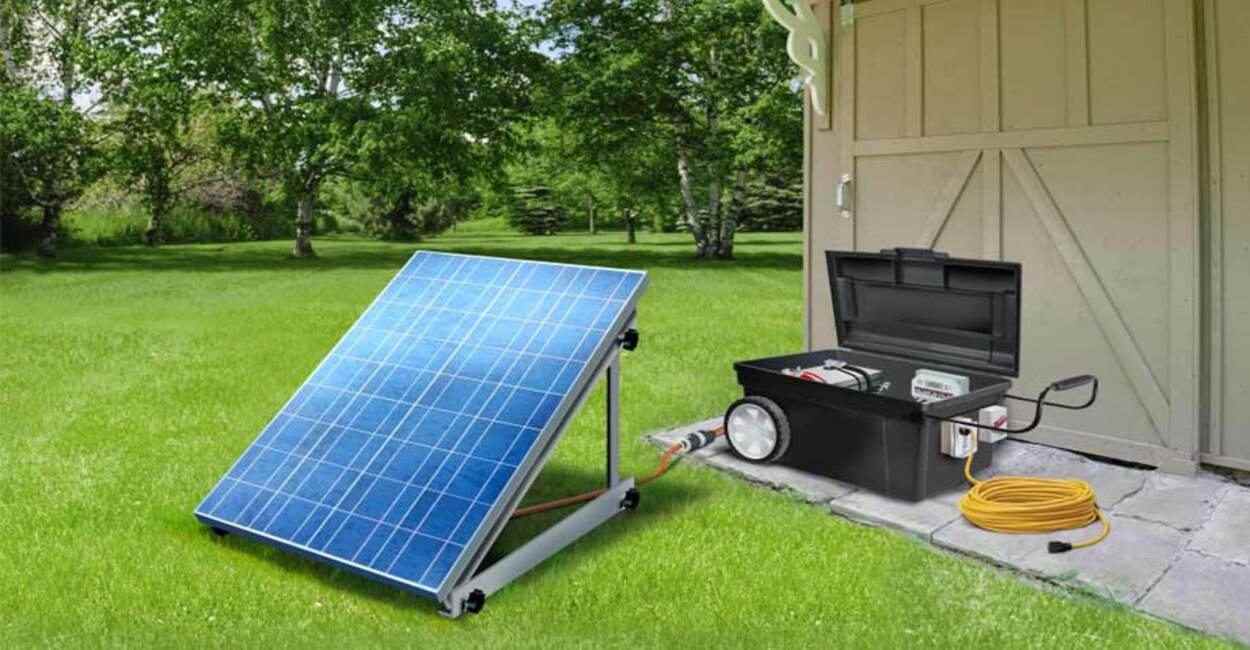 Over the globe, India is the second country in the consumption of solar power. This simply means that India has had most solar-powered devices installed since the inception of solar energy.
The generation of electricity with the help of the sun is a kind of solar process. Solar devices can help in generating, storing, and flowing electricity.
It is not mandatory to make the installation of the solar panel on the rooftop only.
Technology is changing the shape of the lifestyle of humans in order to facilitate comfort. The accredited solar electricity can include portable solar products like 'Solar Generator' as a backup power source if the grid goes down or as a source of electricity on an RV or boating trip. Here in this article, we have mentioned the detailed information to learn more about home solar power generators.'
What do you mean by Solar Generator?
A solar power generator is a type of system that runs off of solar power. The 'solar generator' refers to a portable power station that uses solar panels instead of fossil fuels, and this solar generator helps facilitate electricity.
A portable solar generator utilizes the solar panels to capture the energy released by the sun, and later it stores that energy in a battery to be used later. Most solar generators are used for RV camping, boats and as, a backup power source in the case of a grid power outage.
How does a solar generator work?
The workability of the solar generator is easy to understand.
Typically, a solar generator consists of two main products: that are named as solar panels and storage systems. It works as –
•     Conversion of the energy of the sun via solar panels with the help of a charge controller.
•     The collected energy is later stored in the battery for a long period of time.
•     For the generation of power, the stored energy can be pulled out from the battery system to power the appliances.
The major USP of solar generators is that it is an all-in-one kit. Besides, there are various other components available in the market, like solar panels and batteries separately.
💡
For more such amazing content, do follow our LinkedIn page. 👇
What are the advantages and disadvantages of solar power generator for home
Solar generators are a great way to sustain fossil fuels! As solar generators are portable in nature. However, it is expensive but worth the consideration.
Benefits of solar generators
1. Free energy from the sun
While using the power generated from a sun-oriented generator, you're grasping the sun's energy for free instead of using costly fossil fuels. You can continue utilizing the free energy from the sun for the lifetime of the solar panel, which is generally somewhere in the range of 25 and 35 years.
2. Low maintenance costs
In combination with non-renewable energy source generators, sun-oriented generators are non-portable and do not utilize a fluid fuel. This factor reduces the payments for fixes on your generator.
3. Clean operation
Picking a solar generator over fossil fuel has natural potential advantages. Significantly, fossil fuel generators lead to air contamination and mix carbon dioxide in the air, that ultimately causes environmental change.
Disadvantages of solar generators
1. Limited power supply
You can undoubtedly re-energize the gadgets and work with a sun-based generator. However, it can power your ice chest, TV, and lighting frameworks, all operational for a long period of time.
2. Higher upfront cost
While purchasing sun-based items or products, the heavy prices can be seen on the price sticker of the product. Don't be shocked when you see sun-oriented generators costing two or three hundred dollars more than similar non-renewable energy source items.
3. Slow recharging
Recharging solar generators requires a great investment and should be done in the daytime. Sun-powered generators may not be your ideal choice; one requires more effort to re-energize them.
Solar panels v/s Generator for home
The principles of the solar system and a solar generator are more or less the same, but with minor differences. Like generators, solar systems can convert the sun's energy into usable electricity that is used or stored in battery banks.
But unlike generators, solar systems are dedicated systems that harness the power of the sun. This might include panels you install on a home, RV, or boat. They are portable panels that feed into a full-fledged system.
Comparison between the Solar panels v/s Generator for home
Have you ever wondered which one is right for you? We've taken the initiative to break down the differences in five key areas.
Usage
The usage of the system will be an important factor in determining when weighing solar generators vs solar systems. Solar generators are portable devices, as you can troll them away and bring them out as per your requirement. This simply states that you can even bring your generator with you if desired, which makes it a great option if you are going to need solar power in multiple portable applications.
A solar system requires more permanent installations, even if the panels themselves may be portable. One can connect the solar panels on the rooftop of your home, RV, or boat's electrical system at all times. One does not require making the setup again and again when you need the system's power. The major advantage of the system is that the system is always in the operating mode, even when on the move, and will provide more power overall per the same-size panels.
Battery Capacity
Solar generators have a small battery that makes the portability easy; it becomes more convenient when you need to be able to carry power out to a location.
Solar generators don't require you to use all of the energy they generate immediately. However, the battery capacity built-in to the generator is typically small, and in most cases, the capacity isn't expandable. This leaves you unable to store significant electricity for usage at night as well.
Solar systems don't run into any problems. These solar systems have various components; you can expand your system with multiple batteries for extra storage.
Initial Investment
One must determine the budget between solar generators and traditional solar systems. At the same time, solar generators can easily cost around $1,000 or more. One can find some low-wattage models for several hundred dollars. These may be enough for you to get started and power a few devices or appliances.
Traditional solar systems may be more powerful, but they're typically more expensive.
💡
How is ARKA 360 design software unique from all other software? Learn why professionals consider our software to be the best solar design software out there.
Recharging
The recharge of the solar generators is done when they're out in the sun, and that must be remembered. And depending upon the size of the panels, the charging of the internal battery may be a slow process. If the system is ported from one place to the other, no power will be generated.
On the contrary, the maximum benefits can be availed with the permanent installation of the solar system. As long as your system operates correctly, your backup power should be waiting for reuse when required by the end-user.
Maintenance
The inspection procedure is required by all the solar panels as a motive to keep them clean and keep them safe or other issues threaten their function. However, solar system panels might require more maintenance and are more cumbersome to inspect and maintain–especially those that are mounted permanently. Solar generators are covered when they are not in use.
Solar generators are on the edge of ease when it comes to the part of maintenance, as you can move them as desired. Permanently installed systems can climb to wherever you'd mounted your panels.
What is the Cost of solar generator for home
Solar-powered generators are available in a range of sizes and with varying capacities. Depending on which generator you choose to go with, the price could range from just INR 7000 to lakhs of Rupees.
For low-capacity solar generators, the price fluctuates from around INR 10000 to INR 35000. For INR 1000 you could buy a small solar generator that has around 5 watts and 10-amp hours. These tiny machines usually offer a few outlets, USB ports, and DC sockets.
Are solar generators any good choice?
The first question you should ask yourself before purchasing a solar generator is what are you going to use it for? And can it effectively meet your needs?
If you're looking to charge small appliances on an RV or boat, then a solar generator might be a great option for you. Solar generators are portable and are great options for camping or traveling.
However, the usability of a solar generator when it acts as a backup home power supply is quite limited.
If you're a homeowner looking to make use of solar power, we would suggest you look into investing in a rooftop or ground-mounted solar system that includes a home battery attachment.

What to look for in a solar generator?
Solar generators are available in differentiated sizes and shapes, so picking up one that will address your personal needs must be your priority. Choosing a great quality solar generator can be challenging, especially when you are presented with different options.
All portable solar backup power generators are of similar types; people must be aware of the details regarding what the generator can and cannot do. Knowing how you intend to use your generator will facilitate you in the direction with the right solution.
Some of the top brands of solar generators are listed here- Jackery, Goal Zero Yeti, Bluetti, EcoFlow, Point Zero Energy, Renogy, and Tacklife. Each and every product of these companies are unique in its properties, so a closer look at what each one offers can help you make a sound decision.
Energy Requirements
The amount of electricity must be the top consideration for determining the size of your solar-powered generator. For example, if you have outdoor usage of the product, you must also calculate how much energy your devices and appliances will use when comparing the storage capacity of potential solar generators.
How Much Electricity can be generated by the Solar Generator
The longer power generation of the generator is always the best choice to go with. The calculations are done in watt-hours. It is best to have one that can run efficiently for a long period of time. In this way, it will be easier for the user to keep track of the daily activities or complete what you are doing, knowing you have enough backup power.
How much time is taken by the generator to charge completely?
Apart from making the comparison between the battery capacities of a solar generator, you should also pay attention to how long it takes for the battery to achieve a full charge. There are some generators that can quickly charge from a home AC power outlet. This will help in making the estimation regarding how much time you'll need to be without power in the event a recharge is mandatory.
What Characteristics and Benefits must be Included
You can do wonders with a solar generator that has a bundle of features. For example, the features include more USB ports and power outlets that can provide the user freedom to charge multiple devices at once.
Weight is another characteristic, especially if you plan to use your generator for outdoor activities. Batteries can be heavily weighted, so you might want to look for a solar generator that focuses on keeping the weight down if you plan to move it around a lot.
What is the Warranty scheme of the product?
It is always advisable to examine any benefits you might enjoy from the warranty of the product. The larger and more reputable the company, the more perks can be received to support your solar power generator. Among the top features, it includes replacement parts for any necessary repairs, as well as a longer length of time your solar generator is covered by the warranty.
The best solar backup generator for home
BLUETTI AC200P
The BLUETTI portable power station is one of the most powerful solar generators. The reason behind the confidence is the capability of storing solar power and sending electricity to your off-grid house or campsite. BLUETTI AC200P is also a great solar generator for RVs.
This portable solar generator can power almost all of the electronics and appliances in a home, so it is more than enough for your RV or camping trip.
Bluetti AC200 Max
If you have a desire to get a solar generator that is better for living off the grid for a long time, you will have a hard time finding something better than the Bluetti AC200 Max.
The LiFePo4 battery was utilized by Bluetti in their line of portable power stations. The typical lifespan of this type of battery is around nine years, with a range of 500 to 3,500 charge cycles. The multiple Bluetti batteries can be connected in a chain to increase their capacity to an incredible 8.192Wh.
Jackery Solar Explorer 1000
The Jackery Explorer 1000 is one of the most popular portable solar generators. Despite being an expensive product, this generation's most satisfactory characteristic is its compact size.
The Jackery Explorer's generator can reliably power a fridge, TV, heater, and stove. It is wonderful to have in an off-grid home, in an RV, or while camping. This is a perfect choice if you want a compact yet powerful portable solar generator. It features solar panels, so you won't need to buy on an additional basis.
Jackery Explorer 2000 Pro
The Explorer 2000 Pro is Jackery's most powerful portable solar generator. With 2,160 watt-hours, you can charge your camping gear for many days. It's suitable for isolated regions.
This portable power station can be charged in 2 or 2.5 hours with six 200W solar panels. The Jackery Explorer 1500 consists of four panels.