Solar Roof Tiles - What Are The Pros and Cons?
The popularity of solar power is increasing day after day. Solar power has become the desire of many. Solar shingles, or tiles, are promptly converting into the popular category. These panels are designed to look like conventional roofing materials or tiles. People who want to transform their homes to environmentally and budget-friendly solar power are facilitating many advantages. Solar tiles are more durable in nature than panels and ordinary roof shingles. They are also lighter in weight so that the roofing structure does not take much stress. This creates a multifunctional roof covering, which is a long-term investment.
What Are Solar Tiles?
Solar tiles consist of thin-film solar cells that are made up of copper indium gallium selenite. The size of the tiles is 12×86 inches and has an approx. Weight of 13 pounds per square foot. The cell material is light and flexible and is a good semiconductor. Solar tiles are relatively new and are based on high technology, so they need to be installed by professionals. Installation is a labor-intensive job, so one has to make sure that it is done properly to protect your investment. Each tile is placed individually while wiring every wire inside the structure. Certain permissions are required to own solar-powered equipment, and a professional installer can handle this for you too.
How Much Power is Produced by the Solar System?
To generate more energy in a more efficient way with limited spacing, all the features of solar panels must be inherited from the tiles. There are various challenges faced by the tiles, but instead, the solar tile can produce up to the power of 50 and 114 Watts. When it comes to generating more power, homeowners need to consider the sides of the roof. The best location to install the solar tile is in the southern direction. The northern sides of the roof must be covered with matching tiles of regular roofing material.
💡
For more such amazing content, do follow our LinkedIn page. 👇
Solar Tile Maintenance
Solar tiles look similar to roofing tiles, and the maintenance of the same is simple. You do not require specialized equipment to clean the solar tiles. Always make sure of some of the things while cleaning the solar tiles to remove the leaves, debris, snow, and ice. These tiles are lightweight but can hold large loads and heavy gusts of wind. With regular maintenance and cleaning processes, solar tiles can last for 25 and 30 years.
How Much Cost Does Solar Roof Tiles Require?
Provider to provide the cost of solar tiles varies, but an expected amount is $5,000 per kilowatt. While making a comparison, the residential solar panel system costs around $3,000 per kilowatt, whereas large commercial and industrial projects can reach the cost of upto $1,000 per kilowatt. In terms of cost, solar shingles have no comparison with solar panels in larger projects. However, they can prove to be very much cost-effective in the residential sector, especially when a roof upgrade and a solar power system are being considered.
When making a big decision between solar panels and solar shingles, personal preferences play a vital role. Since solar roof costs double the price of normal PV modules, their payback period is also double. However, the service life of both of the products is over 25 years. Long-term savings can be expected in both cases, but the solar shingles need more time to reach positive cash flow.
Working on Solar Roof Tiles
Solar tiles are generally made up of photovoltaic cells, and each tile is connected to the power distribution board via cables. These cells absorb the sunlight and convert it into solar energy, and from this energy, electrical energy is generated.
The energy is generated by each of the tiles and thus later converted into electricity either by making the utilization of an inverter or a solar diverter. These procedures are performed under the supervision of a trained professional.
The quantity of solar energy which is connected to the other tile is dependent on the amount of sunlight. Hence, these tiles are more efficient during the summer season.
To ensure maximum efficiency:
•         The maintenance and cleanliness of the solar tiles must be done on a regular basis.
•            Overlapping of the tiles is not mandatory.
Advantages of Solar Tiles:
Energy Efficient
The production of efficient energy is the biggest advantage of solar tile roofs and probably the most appealing thing to attract potential buyers. Solar roofs can help in the reduction of your electrical bill by the production of clean energy. The energy produced by the solar shingles is about 110 Watts per meter squared, while the tiles produce about 70 watts per meter squared.
Eco-Friendly
Solar roofs are more environmentally friendly power generation sources than fossil-fueled power sources. There is a myth that the machines and manufacturing processes used to produce solar panels are powered by fossil fuels. However, in the future, they will be capable enough to run those machines and manufacturing processes from clean energy sources.
Fire Resistance
The solar roof tiles and shingles are made up of bad conductors of heat to meet the highest class specification for fire resistance which is a Class A fire rating.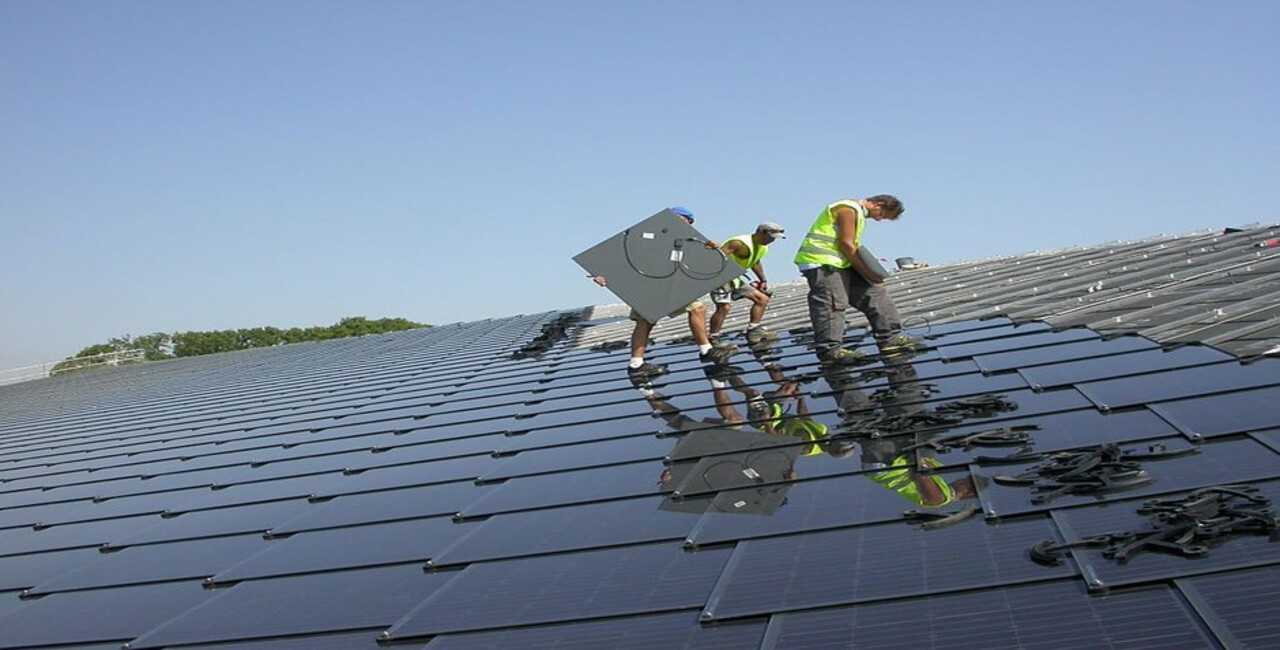 Impact Resistance
Solar roofs are made up of strong glass that is highly impact resistant. The solar tiles are much more than the impact rating of Class 4 impact resistance. One solar company guaranteed that its Solar Tiles are 3 times stronger than other roofing materials.
Wind Resistance
The solar tiles are resistant to wind. They can handle wind speeds of up to 130 mph. This makes them a feasible option for those places that experience high winds.
Life Expectancy
The estimated life of solar tiles is about 25 – 40 years. However, these numbers are just the expectations because this type of roof system is less than 10 years old.
Infrangible
Solar Tiles are inflexible in nature and state that they will keep on working. They are more capable of holding things than other tile roofs that include slate, which can be brittle and break if stepped on.
Aesthetically Pleasing
Solar roof tiles have a good look and field. The looks are non-similar to the traditionally used bulky solar panels. The tiles are sleek and blend in shape with the roof, which can give it a nice clean contemporary look.
Shape
Solar tiles are available In differentiated shapes and forms.
Versatile
Solar roofing tiles can be more versatile in nature than residential and commercial roofs. However, we have a belief that they are more commonly used in residential homes.
💡
ARKA 360 is one of the best solar design software widely used by industry experts. It helps you design a highly accurate design in under 15 minutes.
Innovative Technology
Solar shingles or tiles are the cutting edges of the latest roofing technology. This definitely is a major advantage. Some of the originally selected Solar Roof Glass owners have grabbed a lot of attention from the media about their new roofs. They became the pioneers of this new technology.
Phone Monitoring
Solar roof systems can be linked to your smartphones with the help of an application. This app permits homeowners to monitor and keep track of their roof's energy savings.
UV Resistance
Solar roof tiles are made up of elements that are UV resistant. This feature helps in protecting the roof from harmful UV radiation. Which helps extend the lifespan of the roof system.
Low Maintenance
This is one of the major advantages in the category. The life span of the solar roof tiles is less than 10 years, so we aren't fully sure about what kind of maintenance is required there. It is the point to think that as long as the solar tiles are appropriately interconnected, they do not ask for any type of maintenance. However, early adopters of this new technology may experience some maintenance and repair functionalities because solar roof tiles are in the testing stage to see how long they will last and what kind of maintenance, if any, is needed.
Disadvantages:
Price
As affected by the latest leading technology, the cost of solar roofs is higher than any other roofing material. The cost is totally dependent upon the company, but it can range anywhere from $1,100 to $2,600 per square. In case one is not aware of this, 1 roofing square refers to 100 square feet. So a 2,000-square-foot roof will amount from $22,000 to $52,000.
Testing
Solar roofs are still being developed and tested. They haven't hit the mass market yet. Some of the companies are still collecting pre-orders, among which only a few clients are receiving their roof. This will allow the company to refine its product and ensure it will last longer than the predicted lifespan. The customer will be able to find other companies that facilitate solar tiles or solar shingles that do not have a pre-order list.
Installation
A solar tile requires technical installation techniques. It requires trained specialists in both electrical work and roofing. The time taken by a single worker would be about 2 weeks to have his new roof installed by a crew of 15 to 20 people. That is significantly more than the typical roof that consumes less time in the installation. As this technology progresses and more people get trained, the installation time will be decreased.
Repairs
If the installation is a technical process, any repair required will be a technical part too. It may involve special ordering or technology specialists that will visit your home to make the repair. Else it could be as simple as disconnecting the broken tile and sliding a new tile.
Return on Investment
Solar roof tiles and shingles have a costly upfront cost. It is estimated that it will take at least 15 years to get your return on investment from energy savings, which is about half of the life expectancy of the roof. The standard solar panels have a better return on investment as it typically takes about 5 years to return your money back. An increase in technology will result in increasing the return on investment as well.
Rewiring
When you install the solar tiled roof, you will have to connect the wiring in order to connect your house to the roof and to install battery storage. You will also need to get a repaired roof when you install the solar tiles because the tiles can't be installed on the surface of the previous roof system. The old roof system must be replaced before the installation of the tiles. This repairing system is different from other types of roof systems; it includes SPF, Asphalt Shingles, TPO, etc., which allow you to just cover the previous roof system.
Reinstallation
Another demerits of solar tile roofs is that if you ever decide to move out of your house, the solar tiles cannot be reused. Solar Panels are different because they can be removed and taken with you to your next house.
Conclusion
The installation of solar tiles on the top of your house's roof helps you feel cozy and safe and generates electricity. Manufacturers try to continue to make solar tiles more affordable and more efficient. Thus, as a result, it is definitely looking brighter for solar-powered homes.